We bring the training to you! Our instructor will travel to your office!
This course is available for certification through either the American Heart Association or the National Safety Council and will teach you what to do in the event someone is choking, not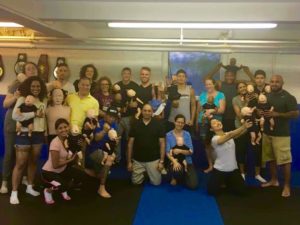 breathing or whose heart has stopped altogether. We show you how to properly administer chest compressions, perform mouth-to-mouth and mouth-to-mask breathing, and maneuvers to relieve choking.
Since the course is broken up into CPR  for Adults, CPR for Children, and CPR for infants, you can learn CPR for whichever age groups you wish.   While there is no written final exam for this course, our staff is dedicated to making sure you have the confidence to act in an emergency and that you will be able to help save a life.
Since CPR alone is not enough, we include additional training in the use of AEDs with every CPR course.  AEDs are devices used to shock the heart back into a normal rhythm, and are deployed, by virtue of law, in public places such as stadiums, airports, and shopping malls.  Every State government facility, schools and other places of mass gathering are also required to have an AED.
Usual class time: 1 – 2.5 hours
---
For pricing and to schedule a class for your office, please complete the form below:
---
Many Allied Health Professionals can receive Continuing Education Credits
All of our classes meet the 2015 International Liaison Committee on Resuscitation Guidelines for Emergency Cardiac Care.
CERTIFICATION CARDS WILL BE ISSUED IMMEDIATELY UPON PAYMENT AND SUCCESSFUL COMPLETION (details)